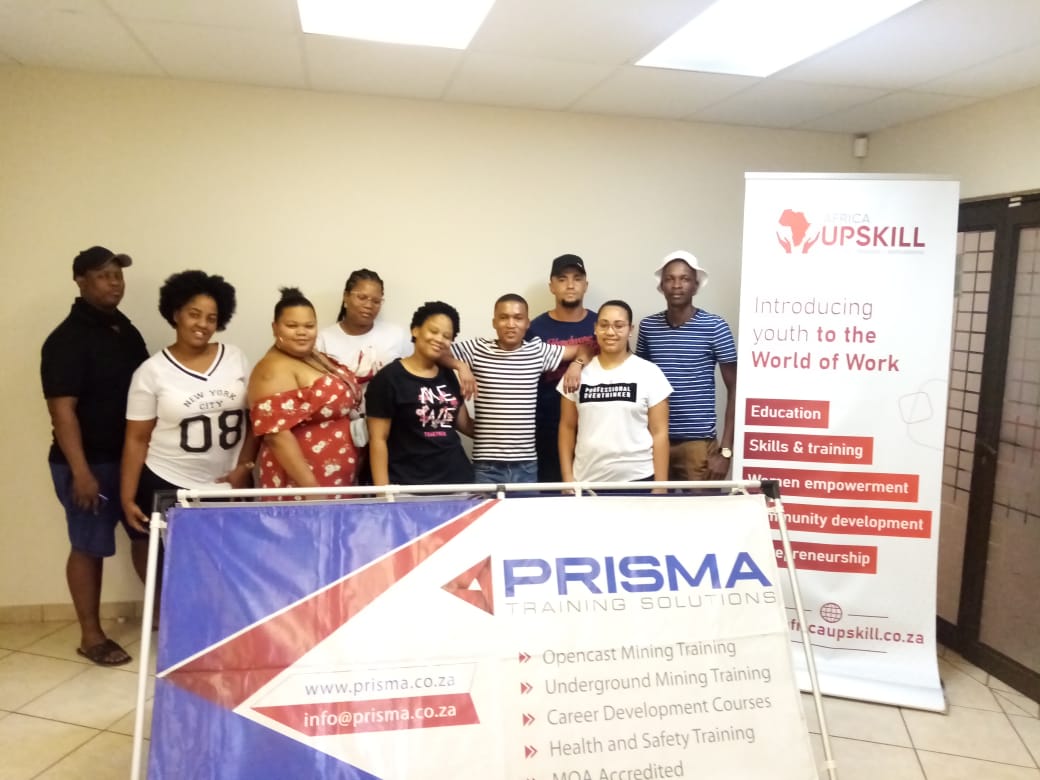 Entrepreneurs build communities
The small Northern Cape town of Kathu is often overlooked by tourists. It is best known for its large iron ore and manganese mines which makes these mine the largest employers within the Northern Cape.  Aside from this heavy industry, the at-risk communities surrounding Kathu have very little at their disposal. With only 3.6% of residents holding higher education certificates, they are desperately in need of training and development.
The wishes of these residents have not gone unnoticed. Prisma Training Solutions and Africa Upskill, two businesses within the Workforce group of companies, partnered together to bring sustainable change to the Kathu community through accredited training interventions.
Prisma is a leader in professional training and is a fully MQA accredited specialist training service provider in the mining sector. They are proponents for change, and strongly believe in leaving places and people in better positions than when they first encountered them. Prisma does this by providing much-needed training to underprivileged and underserviced communities.
Parenting with Prisma was Africa Upskill, an NPO that focuses on developing the skills of disadvantaged communities, uplifting the economy through training, job creation, and entrepreneurship. They are passionate about transformative education, youth upliftment, women empowerment, and community development. This is actioned by addressing the skills gaps and in so doing improving on the socio-economic challenges faced by communities. "With a focus on quality training and education, Africa Upskill ensures that participants have the correct skills to make them employable," explained Peta Broomberg, Operations Director at Africa Upskill.
These two organisations joined forces to service the Kathu community with Entrepreneurial Skills Training. They identified 10 unemployed youths between the ages of 18 and 35 who are registered or unregistered entrepreneurs. They then trained them with the skills needed to help them build businesses that will enrich the community of Kathu for generations to come.
The youth were trained on the Entrepreneurial Skills Programme, a training programmes that is in line with the South African Qualifications Authority (SAQA) and is focussed on SMME (Small, Medium, Micro Enterprise) environment, specialising in New Venture Ownership and Management.
The NQF level 2 course also adds value to entrepreneurs seeking to develop their entrepreneurial skills to become more marketable for bigger contracts, including commercial and public sector contracts.
''We are very excited by the community's interest in The Entrepreneurial Skills Programme," commented Jacques Farmer, MD at PRISMA, "Our goal is to make a sustainable impact that benefits the community for generations, and we believe entrepreneurial skills training will do just that.''
The programme received positive reviews from the new graduates. ''Thank you for the productive and fruitful programme that made implementation easier in our own businesses," commented graduate Kenneth Khorae (Bofelo Trading).
We look forward to seeing more business drive training programmes that change lives in a sustainable way.
View gallery below